TRIUMPH IN THE SKIES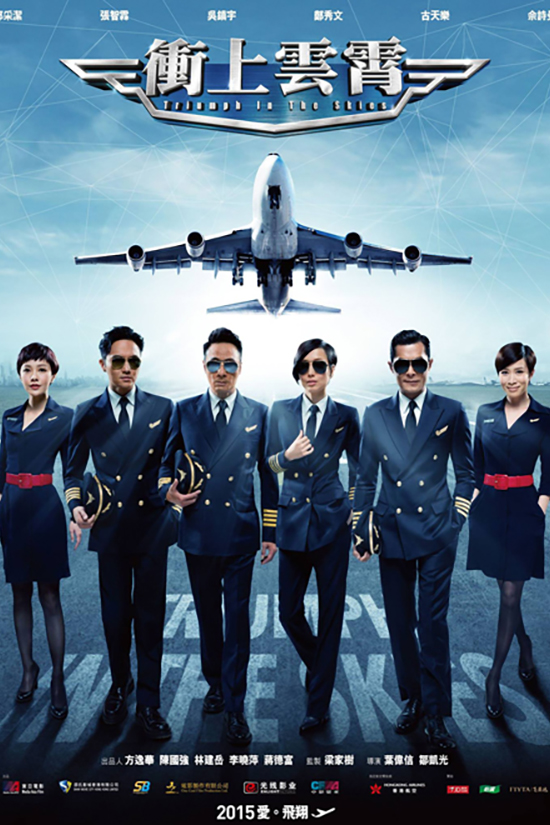 YEAR: 2015
DIRECTOR: Matt Chow, Wilson Yip
PRODUCER: Tommy Leung
ACTOR: Louis Koo, Sammi Cheng, Francis Ng, Chi Lam Cheung, Charmaine Sheh, Amber Kuo
LENGTH: 100 minutes
SYNOPSIS:
Pilot Branson (Louis Koo) takes over Skylette Airways as its successor and attempts to reform the entire company. He invites Sam (Francis Ng) to star in the promotional video for the company, and also persuades senior pilot Jayden (Chilam Cheung) to return to the airline. There remains a lack of pilots, however, and Branson steps up to personally fill in the gap. On his first flight, Branson reunites with air stewardess, Ah Shi (Charmaine Sheh). Branson and Ah Shi were previously in love but parted due to the difference in their backgrounds.
As Sam is a stickler for punctuality, his flights take off on the dot and this results in famous celebrity, TM (Sammi Cheng) missing her flight. This was Sam's first encounter with TM who stars in the promotional video for Solar Airways alongside Sam. Despite being known as a diva, TM goes out of her way to look after Sam during the shoot. After filming ends, Sam and TM coincidentally meet each other again in a foreign country. The two share a romantic night together.
Jayden met young and bright-eyed Kika (Amber Kuo) and his ex-girlfriend, Winnie (Oceane Zhu) through work. A wealthy young man tries to molest Kika and is taught a lesson by Jayden. As a result, Kika develops a crush on Jayden. Jayden spends time with both Kika and Winnie, and they create many happy memories together. Under Winnie's encouragement, Kika decides to confess her feelings to Jayden but as she is about to do so, she faints and collapses onto the ground. Realizing that Kika is suffering from a terminal illness, Jayden fulfills Kika's wish and spends time with her.